New Document Management Scanners Launched
December 26, 2016
Fujitsu fi-7460 and fi-7480 document scanners bring ultimate versatility to the desktop
New Fujitsu document scanners for enterprise users
PFU (EMEA) Limited
London, March 14, 2016
Versatile scanners capture up to A1 documents, thick paper, closed envelopes, plastic cards
The most compact scanners in their class with unprecedented price performance
PaperStream software and cutting-edge hardware deliver stepping stone for the digital transformation journey
Fujitsu subsidiary PFU (EMEA) Ltd. presents a wealth of new functions with the introduction of the fi-7460 and fi-7480, two compact and affordable desktop ADF scanners designed for business users requiring a scanning solution that can handle a wide range of needs and volumes. Designed to capture 60 or 80 sheets of paper per minute (120 or 160 images A4 duplex, landscape, colour, 300 dpi), the new models are powerful yet ultra-compact solutions that offer best-in-class document capture technology for a wide variety of documents – from plastic card to A8 and A1 documents.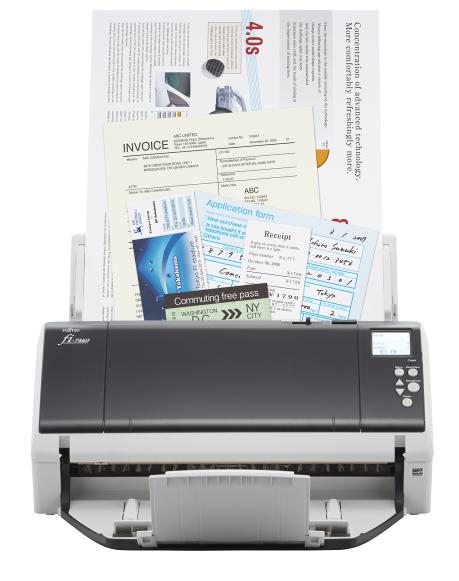 Compact power packs
The recommended maximum daily scan volume of 9,000 and 12,000 pages means these scanners are suitable for most desktop tasks – be it a high volume of standard documents or a wide variety of formats. At a size of 380 mm (width) x 209 mm (depth) the two new fi Series scanners are the most compact scanners in their class.
Tender loving paper handling
The compact body houses an extremely reliable feeding mechanism, including paper protection, through acoustic sensors and a newly designed skew-protection mechanism which protects even the most delicate documents, whilst brake rollers separate each document to avoid paper jams. A manual-feed mode ensures efficient scanning of thick multilayer documents – including closed envelopes and heavy materials of up to 413 g/m². The hopper side guides have been designed to move independently, so users can easily adjust them to the document width for reliable mixed-batch scanning. Fujitsu provides a new paper eject and stacking design, ideal for desktop placement, and introduces higher scale paper-handling technology, controlling paper output speed so that scanned documents pile up in an orderly fashion. A brake-roller-retract lever makes it easy to accommodate paper batches as well as single sheets or even envelopes to be scanned and processed, which reduces the postscanning workload for the user.
Wide variety of media
The new models can capture formats from A8 to A3, scan folded A2 and A1 documents and plastic cards of up to 1.4 mm thickness and handle long documents of up to 5.5 meters. Operator handling is reduced to a minimum, with tedious pre-sorting unnecessary thanks to the mixed-batch scanning functionality.
fi-7460 / fi-7480 give you a head start
The new scanner models are optimised for efficiency: Instant-on scanning gives users a decisive time advantage. The automated corrections, optimised paper and image handling and the intelligent batch-scanning technologies save time at every step of the digitisation journey. The low operating power consumption of 42W/47W and the automatic energy-saving mode reduce the carbon footprint and save energy cost. All this means the highest work efficiency without interruptions for users.
"The fi-7480 and fi-7460 are the most compact scanners in their class, without sacrificing any of the proven fi Series high-level functionality," says Mike Nelson, Vice President at Fujitsu subsidiary PFU (EMEA) Ltd., "With the cutting edge hardware and the included PaperStream software these scanners are a true asset for any customer's digital transformation journey."
"Uninterrupted throughput of 60 or 80 pages per minute combined with the ability to collect documents one by one into the same digital file significantly reduces time for document capture tasks. These two new models mark a technology breakthrough in versatile distributed desktop scanning, triggering efficiency gains in daily capture routines at a highly competitive price," states Klaus Schulz, Manager Product Marketing EMEA at PFU (EMEA) Ltd.
PaperStream software delivers high quality images and process efficiency
PaperStream software is included to ensure high quality image capture for enterprise users. PaperStream IP prepares digitised data for subsequent processing such as OCR (Optical Character Recognition) and connects with common scanning applications via either the TWAIN or ISIS interface. PaperStream Capture allows companies to design and fine-tune their document workflow (including batches) at every step. Once users have scanned a batch they can verify the data, alternate orders, collect documents to a joint file, index and automatically release to local or distant repositories, feed workflows, business applications or ECM systems instantly or pause and resume operation making the platform a true stepping stone for companies on their digital transformation journey.
For more details please visit http://www.fujitsu.com/uk/products/computing/peripheral/scanners/index.html
or contact us on sales@merlin.com.mt